--}}
Your link-in-bio with your own domain name, updated May 22, 2023
updated on May 22, 2023
The litl.it link-in-bio service allows you to create your own personalized links page with your own domain name. online in 24 hours. control of your links in social networks and your google business sheet. 60 € TTC / month. (domain name included)
The link customizer toolbox
Generate short links in mini-site format, landing pages, animated tunnels, and integrate pixels for remarketing.
< Try it out :
Litl.it enriches your web addresses, offering a unique online experience – short links augmented simply and creatively.
Agencies & freelancers
Shrink links to a minisite format for your clients, create landing pages, animated tunnels, and integrate remarketing pixels for your Facebook, AdWords, or Instagram campaigns, and more!
Artists & content creators
Create your minisite in just a few seconds
Showcase your identity, your work, and redirect your viewers to the links that matter to you.
Agencies & freelancers
Manage the visibility, online presence, and web acquisition of your clients.
Group your everyday marketing, web, & social tools into one.
Using multiple tools, systems and apps can quickly become a waste of time and money – the more you use, the harder it is to keep track of the analytics, and the longer it takes to compound the numbers.
litl.it is an all-in-one service – making management easier, boosting your productivity, and improving your clients' web performance
Artists & content creators
Personalize your viewers' online experience and stand out from the crowd.
Offer your audience a truly unique experience and steal the show using your shortened links.
It's difficult to make an impression without a website or with the same website as everyone else. Why not surprise your viewers with a different approach?
litl.it offers a creative way to have an effective web presence without having to create a dedicated website.
Track your analytics on a complete dashboard
Follow your key indicators in real time to better understand your audience (sources, provenance, devices, etc.). litl.it does not use cookies, all data is anonymized in compliance with the European GDRP regulation.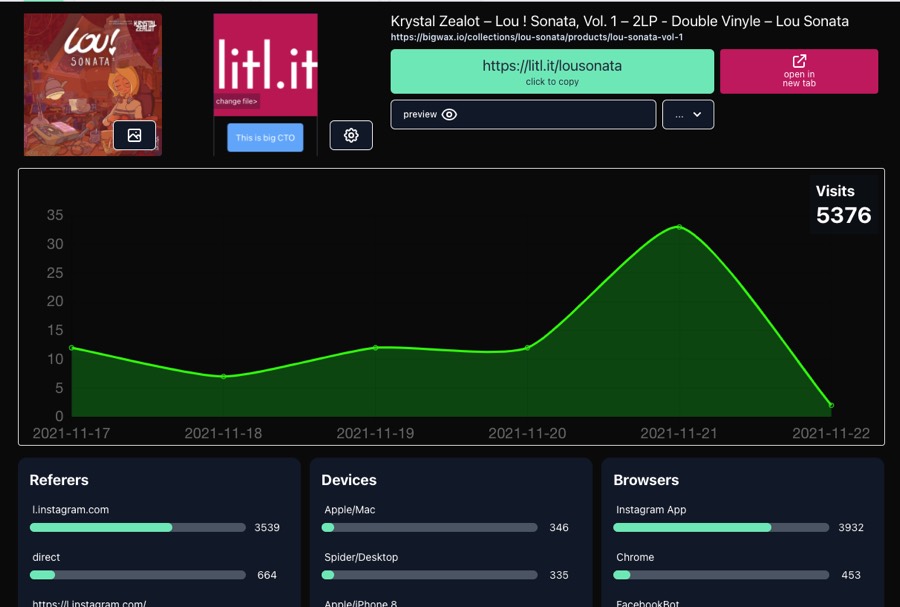 Practically, what does litl.it offer?
Litl.it is a toolbox that offers similar features and services as bit.ly, linktr.ee, and pixelme.me.
Who was the service intended for?
All persons or businesses that want to make their activity visible on the internet can use litl.it to personalise their audience's online experience. We also work with agencies and freelancers that manage their clients' online presence. Our final users are artists, content creators, craftspeople, retailers, and brands.
What is an enriched short link generator?
An enriched short link generator, or Advanced URL Shortener, is like a classic bit.ly -style URL shortener, but with augmented content options: creation of 3D tunnels, animated geolinks, remarketing pixel generators, minisite link-in-bio designs, and so on.
Who created litl.it?
My name is Alexis Desmarais and I am an independent full-stack developer. I create web projects since 1999 for my clients and for myself. Passionate from the start, I've also worked as an instructor and a project manager, and have held positions in large groups such as Pomona, Enedis, Lombard Odier, and other smaller local structures. Leaning on over 20 years of experience, I have created a variety of web and mobile projects to meet your needs… and litl.it is my latest venture.